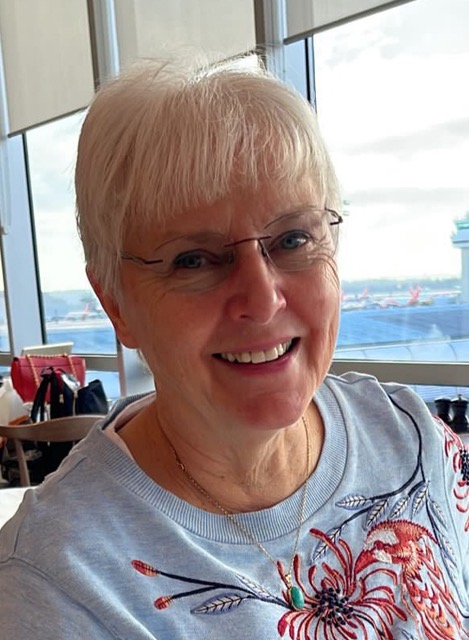 I have believed in God for most of my life. I attended church irregularly over the years mostly because of a sense of duty rather than anything else. If I am honest I never really thought about the impact of God and Jesus in my own life – it has been more of a ritual.
Then as the years went by I began to realise that when I prayed to God, he has helped me find solutions to troubles and problems in indirect ways, which at first I didn't really put down to my belief in God.
It was only when I started coming to St. John's where I have met such inspiring people, that I wanted to find the path to God through exploring the Bible and understanding what our world is all about. After reading the Bible more regularly and having people to explain and openly discuss what it all means, I have realised that this is the path I want to follow.
I am enjoying the fellowship of the church and believe that real satisfaction in life is found by following Jesus.
Ros
---
Hope has a name and that name is Jesus. During the last two years my life has completely turned around having experienced Jesus' forgiveness at the cross and God's healing love. I have experienced new life through Jesus and have learnt more about his character from reading the bible and prayer. Love is a fruit and it is in season at all times and in reach of every hand.
Love is patient, love is kind. It does not envy, it does not boast, it is not proud. It does not dishonor others, it is not self-seeking, it is not easily angered, it keeps no record of wrongs. Love does not delight in evil but rejoices with the truth. It always protects, always trusts, always hopes, always perseveres.
Jamie
---
The truth is that I don't really remember a time when I haven't been aware of my safety in God's arms. My brother Adam and I were blessed with incredible Christian parents, who taught us about Jesus, prayed with us and for us and made sure that we were always part of a great church fellowship. I spent years opening Christmas presents of various bible based colouring books –the kind where I had to colour in a picture of a whale but wasn't too sure who this 'Jonah' guy was- but trusting that it was all important and one day, when I was a grown-up, I would properly understand it all.
When I was about nine or ten years old I was at Spring Harvest and I remember looking around the room and feeling an overwhelming love for everyone there. Even for someone who, I am ashamed to admit, had slightly irritated me all week! I knew then that this love must be a special kind and certainly wasn't something that I was capable of on my own. I felt filled with something that was supernatural and totally indescribable.
There was no 'one shining moment' in my life when everything all became clear; there have been many moments. God's love for me was revealed steadily over the years- like pieces of a jigsaw. My joy has grown each time I have received a new piece and understood more.
It would be enough to know that Jesus was sent to save me; to suffer and die in my place so that nothing can stand between me and God. To know that there is nothing that I, in my vast foolishness, can do to mess that up, because of Jesus.
But to know that he also moves in my life; that he desires to have, and maintain, a personal relationship with me; that His love for me is real and for today and not just a story from long ago- that's pretty incredible isn't it? I think that is why it is so hard for some people to believe it is true. Perhaps it simply seems too good. I'm still learning, unfinished; but I'm excited to know what God will bring my way next.
Jenny 
---
From the outside, my life looks anything but exciting! But I feel that every Christian story is a miracle of God's amazing love and forgiveness, mine included. I was blessed to be born into a Christian family; my parents were missionaries in Uganda, and I asked Jesus to come into my heart as my Lord and Saviour when I was very young. I can't pretend that everything has been plain sailing since then - there have been many storms and times of darkness, as well as periods of cam contentment - but I can honestly say that from that moment to this God has been completely faithful, and has never let me down. His presence is a 'constant' in my life, and I am of an age when I look forward to meeting him face to face whenever he calls me to my eternal Home!
Anne
---
I was very blessed to grow up in a loving Christian family. My father was one of 7 children & my mother was one of 4 all devout Christians. Sundays were always special, when at home we would walk 4 or 5 miles to our Baptist church or if with aunts & uncles attend two 2hr services with a sandwich lunch in between eaten at the chapel. There was much I didn't understand as a child from these long sermons for God seemed to be a God of judgment rather than one of & I found it hard to understand why Jesus didn't come down off the cross if He was God. I did however learn the importance of prayer & Bible study & commitment to the church. I was further influenced by the school I attended from the age of 11 as it had a strong Christian ethos having been founded for the daughters of missionaries.
It was when I was 17 that one evening I walked across the fields to the church where I was looking forward to hearing a visiting speaker. I don't remember from where he preached or what he said but it was if he was only speaking to me & my eyes were opened. I knew certain that Jesus had to die on the cross to forgive my sins because He loved me so much. From that night I promised to live my life for Him.
Ever since that night God has been my strength & guide through good times & bad. I know I have failed Him many times but also know I am forgiven & with Him, I have a hope & a future.
Val
To explore more and dig deeper we recommend
www.bethinking.org Christian answers to some of life's biggest and most troubling questions in a variety of formats and lengths.
Latest Talk Feel free to check out our current and past talk series for a more in depth look at what we believe and teach.
Glen Scrivener in 90 seconds Short and snappy 90 second answers to tough questions about God and the Bible.